Step-by-Step Instructions for Donating
Donate Links
Thank you for participating in the Lend A Helping Hand campaign and giving generously. Your contribution changes lives and makes a positive difference in our communities and beyond. Please make your contribution online. If that is not feasible, use the Pledge & Payroll Deduction Form to donate in person. Instructions for both procedures are provided below.
Please follow these step to donate online (preferred)
Click the "Make a Donation" button. It will take you to the Utah ID login page. Please provide your credentials as prompted. Then, continue with the following actions.
Selecting contributions type: payroll deduction or one-time donation
Selecting payroll deduction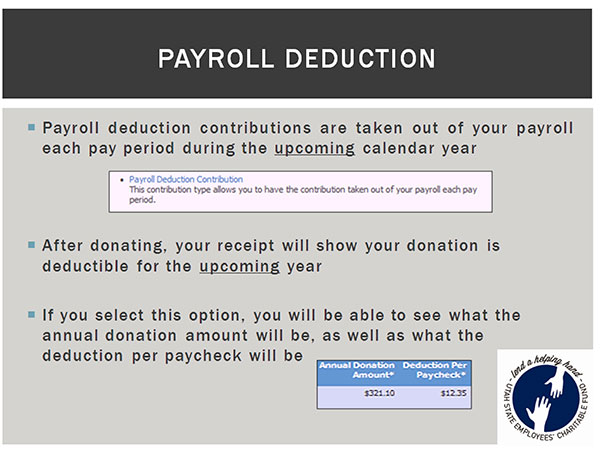 Selecting one-time contribution
Copying last year's selections to continue them the coming year
Selecting a new agency to support with a new amount of money. Even $1.00 donation can be deducted from your paycheck each pay period.
Confirming and submitting your contribution by payroll deduction
Confirming and submitting your one-time donation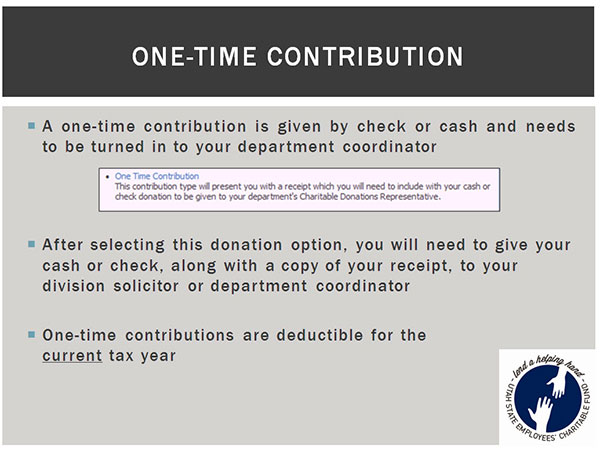 Printing receipt
Please follow these steps to donate in person
Fill out the form and sign it
Give the form and your donation to the Department Campaign Coordinator for processing.